Jurassic World: Dominion Dominates Fandom Wikis - The Loop
Play Sound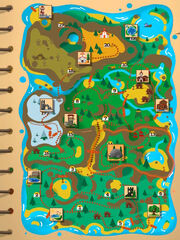 The Turtle Rock region is located in the Central East portion of the map, south of the Abandoned Mill region. In order to reach this region, the player needs to complete the quest "Fix the cable car".
Turtle Rock campsite
The Turtle Rock
Milestones 13 & 14
The canyon
The Cable Car
Related Quests
Campsite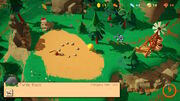 Turtle Rock is one of the 12 campsites in Haven Park and can be found after completing the "Fix the cable car" quest. Grandma can be found in the campsite, sitting on a rock near The Turtle Rock. Approaching Grandma will trigger a cutscene, in which she tells Flint that she's going to head to Pilgrim's Peak, which in turn will activate the "Meet Grandma at Pilgrim's Peak" quest.
In the campsite is The Turtle Rock, with a repairable sign in front of it.
This campsite can gain a total of 2 campers, requiring 8 buildings in total. One of the campers, Willie, can give the player the optional quest "Find 8 fireflies".

Camper 1
Required buildings: 1 Rest
Camper: Willie the Fox
Camper 2
Additional buildings: 1 Shelter, 1 Rest, 1 Activity, 1 Decoration
Camper: Felicia the Frog
Camp Completion
Additional buildings: 1 Shelter, 1 Food, 1 Decoration
Repairable Items
The following is a list of each repairable item located in the Turtle Rock region. For a full list of repairable items, see the Maintain the Park (Quest) page.
| Type | Location Description | Screenshot |
| --- | --- | --- |
| Direction Sign | To the right of the upper portion of the cable cars, near Milestone "13" | |
| Direction Sign | West of Turtle Rock campsite, in between the rope bridge and baby turtle rock. | |
| Sign | In front of The Turtle Rock, in Turtle Rock campsite. | |
| Long Fence | South of the cable car, along the path heading towards Turtle Rock campsite. The lower portion of the cable car is visible. | |
| Long Fence | North of Turtle Rock campsite, near Milestone "14", overlooking the northern entrance of the Canyon | |
| Long Fence | West of Turtle Rock campsite, South of the rope bridge. Overlooking the southern entrance of the canyon. | |
| Street Light | In the Canyon | |
| Street Light | To the right of the upper portion of the cable cars, near Milestone "13" | |
| Street Light | On the path South of the cable car, leading E-W, across a bridge | |
| Street Light | North of Turtle Rock campsite, next to a bench overlooking the cliff | |
| Street Light | Along the path leading Northeast from Turtle Rock camp, near a Firefly Lantern | |
| Torch | North of Turtle Rock campsite, along the path leading from the cable car | |
| Torch | West of Turtle Rock campsite, in between the rope bridge and baby turtle rock. | |